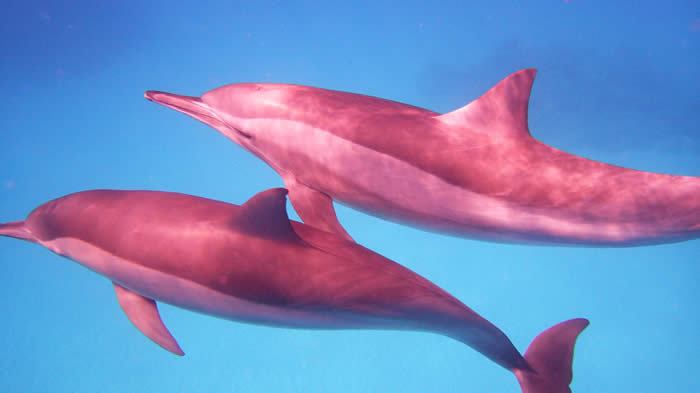 A probably unforgettable journey with the Dolphins in the Red Sea together with Kiesha Crowther
In the Red Sea in Egypt there is an incredibly beautiful reef (Sataya reef) of about 12 kilometers long where dolphins come and rest, play and mate.
This region is unique as we can meet the dolphins there without chasing them, as often is the case elsewhere.
It always a deep experience to meet with the playful dolphins who radiate healing energies just by being their playful self. And for the moments where the dolphins don't show up there is always the beautiful reef with a wide variety of colourful fish to explore.
It is a spiritual journey for each and everyone. Kiesha Crowther - Little Grandmother and Joyce are going to support this wonderful experience with spiritual workshops on board of the ship.
Have a look at the short movie we made last time we were there.
Here is what Kiesha has to say about the dolphins and this sacred journey:
What if I told you that there is an animal here on earth that has a higher vibration than any human being, has a far superior and more complex brain responsible for emotion, cognitive thinking, compassion, communication, emotion and memory than any other living creature. Would you believe it? There is! They are our worlds dolphins!
Dolphins have been loved, honored and revered throughout history and even worshiped by some indigenous cultures. Its not hard to see why, somehow there is a deep pull, a unexplainable connection to these beloved animals. It's hard not to love dolphins, in-fact I do not believe i've ever met someone that doesn't love dolphins.
Dolphins are amazing! We all love dolphins, we simply cant help it and anyone that has had an interaction with a dolphin will tell you "something special" really does happen. Now, our science is staring to finally understand just how special these amazing animals really are. No other animal (that we know of) has the proven ability to enhance healing for disabled human beings, help autistic children to speak and even walk! This same animal can create stress reduction, lift depression, boost production of infection fighting t- cells, stimulate the production of endorphins and hormones, enhance recovery and even reduce pain in humans!
Scientists now know that the dolphin's ultrasound emissions have huge healing potential from an energy and informational perspective. We have been using sound and ultrasound to promote healing clinically and know of the great benefits it has on the human body for some years now. We know that sound can influence heart rate, breathing, muscle contractions, memory, and immune function. The big discovery is that the dolphin's ultrasound blast is four times stronger than therapeutically used in hospitals! Furthermore, this blast is delivered through water, which is 60 times more efficient than air for sound transference, to a body that is three quarters fluid!
Now it is with great excitement that I invite you to come with me on a unforgettable trip to the Red Sea to swim with the wild dolphins! Come to be healed, come to offer healing, come and be part of something amazing! I will teach you of the ancient stories from the tribal peoples from around the world about these sacred creatures. We will hold ceremony and offer a blessed crystals to the Red Sea for the protection of the abundant life that resides there. We will learn how to connect our hearts and souls to these sacred creatures so that our experiences with them in the water so we may give and receive the greatest heelings. This trip will not only be set in one of the most beautiful places in the world and offer you a beautiful getaway but also.. something deeper.. a opportunity to offer help and healing to the creatures that have given us so very much. We go with the intention of offering our love, our ceremonies, our hearts, healing and our protection to them, the great keepers of our oceans. It is time that human kind, from all walks of life, witnessed and honored them for the beloved sentient beings that they are. Please join me!
All my love, Little Grandmother
Time:
November 24th - December 1st 2018
We travel as a group from Zaventem airport and fly to Marsa Alam in Egypt.
Please note that the sea in Egypt is still warm in that period, and average temperature in that period of time is still 20° C.
Place:
Egypt - Red Sea
Practicalities:
You will need your swimming & snorkeling gear, as well as sun protection.
If you are sensitive for sea sickness, please bring appropriate medication with you.
The travel agency and boat belongs to Nooraya. The Nooraya organisation will organise the bus transfer from the airport to the boat (and back).
We will stay on board of the Nooraya ship during the full week in the middle of the Red Sea close to the Sataya Reef.
Price:
Full board: 1590 eur (all meals and drinks are included, except alcoholic drinks).
The price also includes the flight ticket and transfer to the boat.
The price does not include the cost of the visum for Egypt, or the tip for the crew at the end of our journey.
Please note there is a limited number of cabins and these cabins will be shared by 2 people. If you are alone, please be prepared to share your cabin with someone.
Your registration will be confirmed after you have emailed to the email address below, and when you have paid an advance payment of 500 eur on the bank account of the Oneness association
Please only fund the deposit of 500 eur, after having registered via the below email, and after having received our confirmation. Deposits funded without our confirmation are not valid as a registration.
Reserveren via email naar spiritueelwe@gmail.com
Register via email to spiritueelwe@gmail.com