A one-day shamanic workshop in nature with Little Grandmother, Kiesha Crowther
The indigenous elders of today have asked us to go to sacred sites and start praying for the healing of our Mother Earth and the healing of Humanity. This practice is of uttermost importance to rekindle the relationship with Mother Earth and undo the damage we have done to Her. In this workshop we will learn everything there is to know about sacred sites around the globe and how to make one ourselves to reconnect to Mother Earth.
We will dive into the greater meaning of the elements: water, fire, earth and wind and their four related directions. The four directions are found in the Medicine Wheel. These four parts of the medicine wheel are representing the four directions of wind (NORTH, EAST, SOUTH and WEST) on our planet, but also the four parts of human beings being the spiritual, physical, emotional and mental aspects of the self. It is important in our daily life to balance these four parts that were given to us, to function as children of Mother Earth. To love our Mother Earth truly, we have to know her, her directions, elements, the deeper meaning of it all.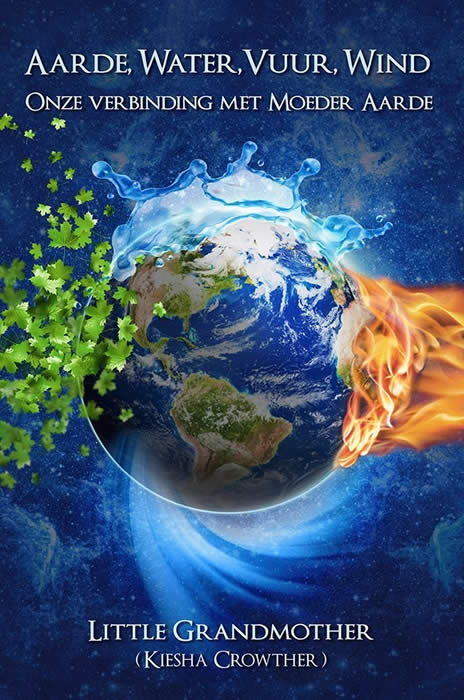 Kiesha's nieuwe boek
Life mirrors the cycling of the seasons, the daily rising of the sun, and the phases of the moon. All things on this planet and in you are interrelated. The medicine wheel holds this wisdom, the Powers of the Four Directions and the ongoing cycle of life. I will bring this ancient knowledge to you as we will make a medicine wheel together.
If you have a drum please bring it with you. If you have a special crystal please bring it with you. We will join each other in ceremony and make a medicine wheel.
In this workshop you will learn and experience in depth:
- deeper understanding of the four directions on this planet and in you
- deeper understanding of the medicine wheel and how to make one
- deeper understanding of sacred ceremony and conducting one
- working with crystals
- working with the elements and four directions in your everyday life
- clarifying your own path, methods that can help you finding true purpose of life
- How to connect to Mother Earth
- Guided meditations
Time:
Friday 13th October 2017
Start: 10 am
End: 5pm
Place:
The Ardennes, Worriken 9, Bütgenbach, Belgium.
Practicalities:
We will make a 30min walk in the forest and perform rituals at the lake. Please take the wheather conditions into account, and bring warm clothing and boots when necessary.
People who would like to book a room and sleep overnight, please get in touch directly with the Worriken Center, +32 80 44 69 61
You'll find information and pricing about the (basic) accomodation on www.worriken.be
Price:
Workshop: 90€
Lunch: 18 € (the lunch is a buffet with a choice of foods such as fish, salads and vegetables, patatoes, rice, pasta and it also includes a choice of desserts)
Your registration will be confirmed after you have emailed to the email address below, and when you have paid 108 eur (workshop + lunch) on the bank account of the Oneness association:
BE15 7310 1251 8530
BIC or SWIFT code: KREDBEBB
Reserveren via email naar spiritueelwe@gmail.com
Register via email to spiritueelwe@gmail.com